Globalvia is positioned as the absolute leader in its sector in terms of ESG (Environmental, Social and Governance) in GRESB – Global Real Estate Sustainability Benchmark – 2019 for the Infrastructures Sector.
Globalvia holds two leading position:
In Transport Infrastructures, competing with a total of 393 entities.
Motorway Manager competing with 22 competitors (Class and Superclass as per the classification published by GRESB).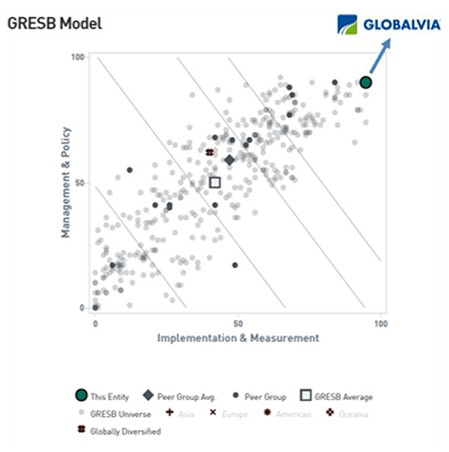 In general, Globalvia has obtained a score of 93 out of 100 which it is positioned as a leader in all the rankings in which it applies.
GRESB is a sustainability index used as an assessment and benchmarking tool by private and institutional investment funds and institutions to measure and assess the quality of their investments in terms of sustainability: environmental, social and governance.
The higher participation in this benchmarking assessment is emphasized this year compared to previous editions: 107 funds (increase of 43%) and a total of 393 assets (increase of 40%). These figures obey the growing interest by investors in sustainable business models and the importance of ESG in decision-making.
Globalvia's results prove its commitment to leading the infrastructures management sector, endorsing the efforts by a team of over 1,000 people who work to provide our customers with the very best service, promoting the very highest standards of quality.