We integrate the metropolitan bus network of the Seville Transport Consortium in our app Meep Sevilla by Globalvia!
01-02-2022
Our MaaS app – mobility as a service, Meep Sevilla by Globalvia incorporates from today, February 1, the entire metropolitan bus network of the Seville Transport Consortium.
This way, we take another step in our commitment to bring together all the means of transport in a city in a single app, together with our partner the Spanish mobility startup Meep. And it is that our MaaS platform already incorporates the services of Metro de Sevilla, TUSSAM buses, Voi electric scooters, Yego electric scooters, Sevici bicycles and Taxi, in addition to offering other value-added functionalities such as Place To Plug, Parkimeter and the Ciclogreen incentive system.
Meep Sevilla by Globalvia allows our users to combine different means of transport on their journeys, planning and paying for their journeys through the app and choosing the most convenient route based on their needs.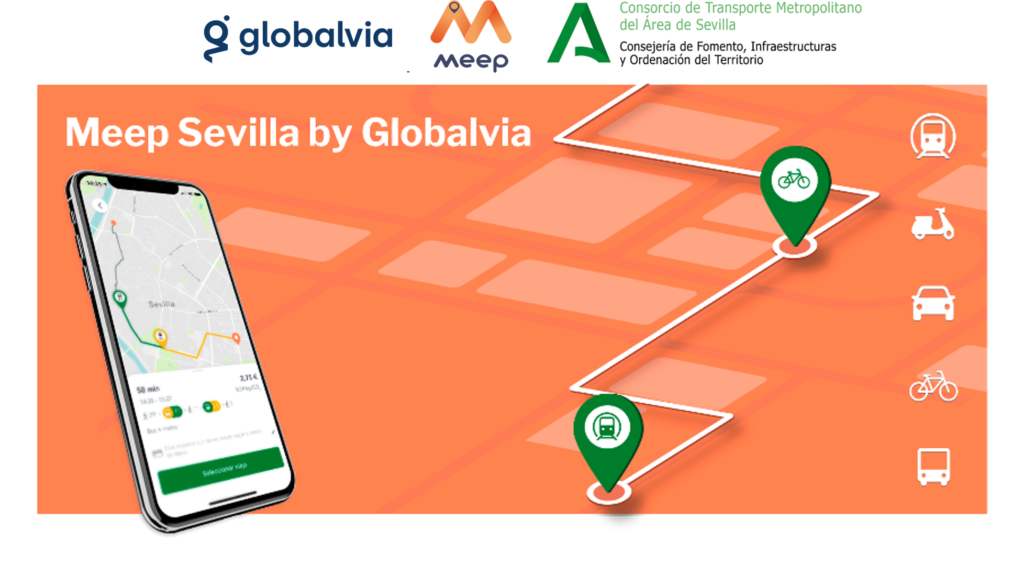 The new agreement between the Seville Area Metropolitan Transport Consortium and Meep Sevilla by Globalvia reinforces the mobility offer available to users of the metropolitan area and offers the possibility of connecting the municipalities of the province of Seville with the capital including the rates for jumps of the transport card, a differentiating element with respect to other well-known mobility platforms.
This integration reinforces our Meep Sevilla by Globalvia project, meaning another step towards the expansion of mobility as a service in Spain, as well as reducing the use of private vehicles and city congestion to achieve more connected and sustainable mobility.
In the words of Fernando Vallejo, Director of Innovation and Systems at Globalvia: "The incorporation of the metropolitan bus network to the range of mobility services offered by our app Meep Sevilla by Globalvia is another step towards our goal of improving the experience of our users and facilitate their quality of life in the city".
We continue adding alliances to move towards mobility that is increasingly accessible and sustainable for our users!
Changing the world together!